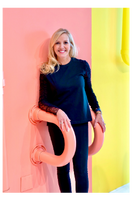 MEET ELLEN
It thrills me when a blank canvas comes alive to tell a story. The thought of bringing joy into other's lives and creating a hunger for beauty is deeply satisfying. 
read more
TO LOVE BEAUTY IS TO SEE LIGHT
WE LIVE ONLY TO DISCOVER BEAUTY. ALL ELSE IS A FORM OF WAITING.